Living and non-living Architecture 1st Int. Seminar
Living and non-living Architecture Seminar
Escuela Técnica superior de Arquitectura, 14/15 March 2019, Sevilla, Spain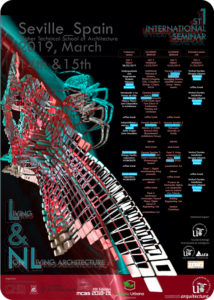 Technological developments currently provide a potential that prioritizes their implementation rather than reflecting on the repercussions and consequences for the fields of knowledge involved.
…
One of the tasks of the curricula is to be able to anticipate what does not yet exist to train their graduates with instruments and knowledge, as well as reflective capacity, for a world that changes more rapidly than the duration of university studies.
…
As a form of approach, discussion, evaluation and transfer, this congress raises the old but not well-assumed relationship between biology and architecture. Experiments are being carried out all over the world, assembling laboratories, on biologically based materialities. To be in this process is to be in agreement with the sketches of what it will be to imagine the city of the future.
Consortium members were invited to give keynote lectures.
Waltraut Hoheneder, Managing Director, LIQUIFER Systems Group. Vienna, Austria opened with a keynote addressing sceanrios and applications of Living Architecture. Juan Nogales of the CSIC – Centro Nacional de Biotecnología, Madrid followed with his systems biology perspective.
On the second day Rachel Armstrong, University of Newcastle Upon Tyne School of Architecture, Planning and Landscape gave a keynote about "Design with Metabolism: Shaping the Inner Life of Things", followed by
Rolf Hughes, Director of Artistic Research EAG (Experimental Architecture Group).